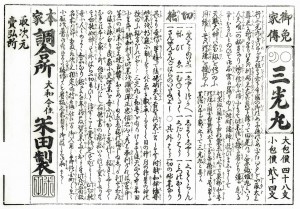 Approximately 700 years ago, my ancestor (in the Komeda family) presented our secret drug to the Emperor Godaigo, and the drug was given the name "Sankogan".
Since then, the manufacturing method for the drug has been inherited over generations until it reached me, the 34th head of the Sankogan business.
Sankogan is characteristic in that it alleviates the unpleasant gastrointestinal conditions through the gentle and steady function of herbs as the gift of Mother Nature, while enhancing the healing power of the human body.
We at Sankogan Co., Ltd. believe that our mission is to provide Sankogan as a household medicine to all households to protect their health.
We aim to remain a company which stays close to the people's lives and sees their healthy smiles, and that sustains its operation through a broad contribution to society, based on the knowledge and skills accumulated over its long history, while looking forward to the centuries to come.
Company name
Sankogan Co., Ltd.
Location
700-1 Imazumi, Gose City, Nara Prefecture
Director
Komeda Toyotaka, CEO and President
Businesses
1) Development of customers for household distribution drugs and the sale of drugs to such customers
2) Manufacturing and marketing of the Sankogan drug and other quasi-drugs
Capital
48,000,000 yen
Employees
112